Our telecom solutions give you the power to grow and flexibility to succeed, so you can focus on what matters most.


Internet Leased Lines (ILLs) are internet connectivity products that work over fiber with dedicated bandwidth. This connection is critical for internet access, business data transfer, voice and video calls, and other forms of telecommunications. A reliable internet connectivity today is a utility such as water or electricity supply for enterprises regardless of their proportion. Today's organizations need speed, efficiency, and reliability when it comes to internet connectivity with best time and service availability 24/7.
We, at Databytes, are precisely your go-to team for this critical service. We help you plan your last miles in terms of primary, secondary and bandwidth sizing depending on your business requirement. No matter what geography, we bring to you the best available connectivity.
Our Internet Leased Line connection lets you connect your devices and communication systems in a most efficient manner. Designed to meet the needs of both small businesses and multi-national corporations. We are pioneers in connecting organizations to the exact solutions they need. Even if there are any problems, rest assured that we will resolve them quickly. With a global range of corporate clients, we have the experience and infrastructure to provide your company with a reliable leased line connection.
Here is what you get with the Databytes experience:
Partnered with all major telecom companies

Dedicated, symmetric bandwidth with options.

Latency commitment.

Multiple last-mile options.

End to End 99.5% Service Level Agreement (SLA).

Ring protection (for fiber last mile only)

Proactive monitoring*.

Link up time and traffic | Policy management | Device health*.

Configuration management*.

Anti-virus/ Anti-spam/ IPS | Trouble ticket and SLA compliance*.
A leased line WAN is a type of Ethernet crossover cable that connects two routers. The primary purpose of a WAN is data transfer between LANs. Leased lines – WAN can be used to serve connect multiple office locations under single network.
Databytes understands your business requirements. That's why we offer you dedicated fiber connectivity between offices with bandwidth options and uptime guarantees you can rely on. The industry-standard fiber products we offer, meet your needs for security, reliability and throughput—leaving you free to do what matters most: run your business. We can help you find the strengths of each technology by leveraging our expertise, proprietary tools and proven track record.
Our Leased Line – WAN service has the lowest infrastructure and maintenance cost and is also one of the most reliable services in the industry. We provide high-speed and stable data connectivity over an arterial channel.
Here is what you get with the Databytes experience:
Dedicated fiber connectivity between 2 offices with defined bandwidth regardless of geographies, both domestic and international.

 

You can now prioritize your voice and data traffic with secure and reliable connectivity. 

 

Best industry standard uptime.

 

Databytes will enable you with tier 1 partnered service provider with the option of managed and unmanaged circuits.

 

Our service team will ensure service availability and delivery so that your business is up and running all the time.

We explore multiple media and last mile options depending on availability and our customer requirement and cost in mind.

 

Wide application usability varies from real-time interactive applications to business-critical applications.

Hassle free deployment.

 
MPLS or Multi-Protocol Label Switching
Multi-Protocol Label Switching or MPLS allows packets of data to reach their destination quickly and efficiently and securely. It is a standard tool that many companies use, especially when an uninterrupted, strong interconnection is essential.
MPLS lowers latency and allows organizations to conduct smoother video conferences and Voice over Internet Protocol (VoIP) calls that depend on uninterrupted, smooth streams of data. It is a method that designs paths to transmit data between nodes, not endpoints.
No matter how far your organization's branches are from each other, our MPLS will provide reliable and sturdy network services that can meet all your inter-connectivity requirements. In addition, the Secure Connect feature allows employees to communicate across India by privatizing a public cloud network securely.
When deploying our MPLS network, one can choose and prioritize traffic routes to their business.  We have even partnered with other telecommunication companies to offer local internet services
Here is what you get with the Databytes experience:
Databytes will help you connect your multiple branch offices through secure Multi-Protocol Label Switching-MPLS. 

We ensure connectivity in remote locations with multiple last mile options.

Easy scalability.

 

Fast and secure connectivity to your cloud infrastructure.

Prioritize your voice, data traffic, and applications depending on your business requirement on preferred Quality of Service-QoS.

 

Packet loss <0.01% on carrier grade connection. 

 

Best in industry SLA-Service level Agreements.

 
An SIP trunk (Session Initiation Protocol) is a digital version of an analog trunk that allows users to make outgoing calls as well as receive them. SIP trunks allow businesses to make long-distance or local calls via the internet.
SIP Trunking is often used by businesses to cut down on phone costs or to take advantage of exclusive cloud features. The technology provides support for a business's telephone systems by bringing the cloud's cost benefits, scalability, and analytics feature directly to its landline.
Our SIP Trunking (or Session Initiation Protocol Trunking Service) offers a superior service to traditional Time-Division Multiplexing services. With Databytes, SIP Trunking Service can be installed on an existing dedicated WAN circuit in your company, while it is not necessary. Such a feature will give you incremental channels ranging from thousands to millions.
Here is what you get with the Databytes experience:
Let your customers experience high quality voice calls when you call them.

Unlike conventional voice connectivity, SIP gives you the flexibility to upgrade channels in multiples of 10

based on

your actual business requirement within no time. 

 

Supports up to 1500 simultaneous with single connectivity.

Supports both IP phones and soft clients, which eliminates the need for wired phones.

Unmatched network availability of 99.5%

With us, you get a unique advantage of connectivity and hardware deployment with its end-to-end manageability removing dependency on multiple vendors.

Easy integration with other IP platforms.

Databytes would deploy the solution including the EPBX and IP Phones as part of our managed services.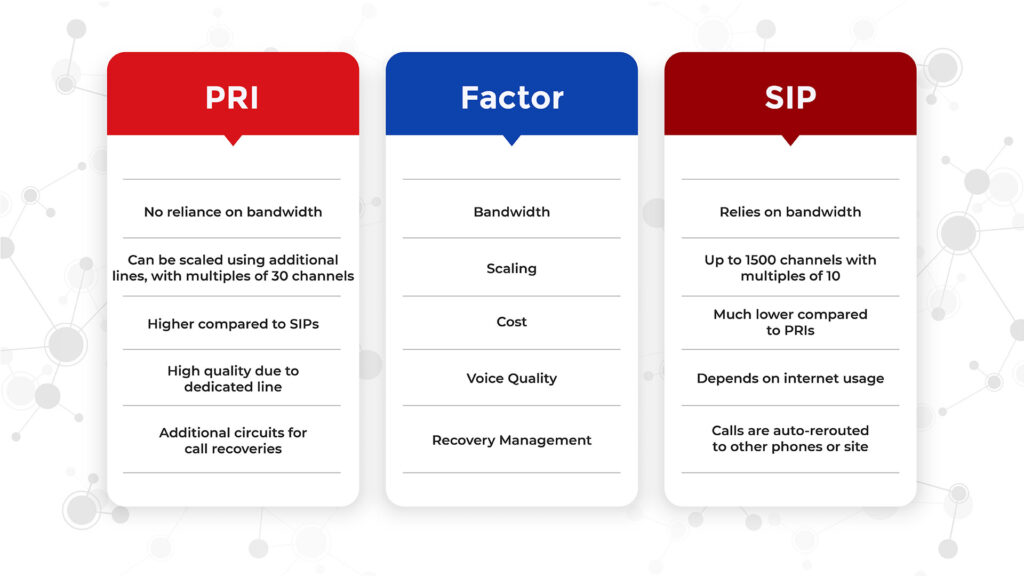 Primary Rate Interface / PRI
A primary rate interface (or PRI) is a voice communication system extensively used by business to connect within and outside office though a PBX system.
As standard this solution offers 30 channels with 90 voice lines capability and offers superior TDM quality voice, with the ability to enhance the voice channels according to the need. Our SLA-based primary rate interface (PRI) service offers many voice channels over a given link. Furthermore, the channel can be configured according to the requirements.
Here is what you get with the Databytes experience:
You can opt for traditional tried and tested voice technology with our PRI services.

Considered old school but delivers jitter free digital voice quality on TDM technology.

The choice of PRI and SIP is typically based on business requirements. 

 

PRI works best for a simple intra office, inter office and outside of office calling solution.

Ease of deployment without much configuration hassles as Databytes would deploy the solution including the EPBX as part of our managed services.

With us you get a unique advantage of connectivity and hardware deployment with its end-to-end manageability removing dependency on multiple vendors.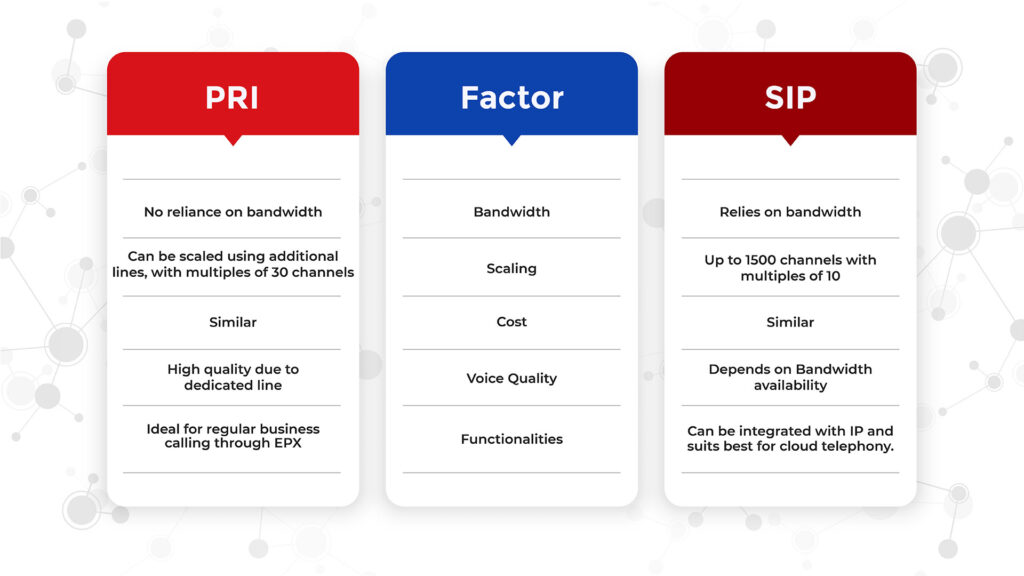 Software-defined wide-area network (SD-WAN) is an automated, programmatic way to manage enterprise network connectivity. It extends software-defined networking (SDN) into an application that the business can use to build an intelligent hybrid network quickly.
This allows you to manage your applications cost-effectively, especially in the cloud. These types of technology eliminate the need for additional hardware at the branch, providing rapid deployment and simplified ongoing operations. With SD-WANs, you gain complete visibility and control of all network components while optimizing application performance and reducing network costs.
SD-WAN solutions from Databytes are designed to improve your business' network connectivity, simplify management, and reduce costs. We can provide a stable and secure connection between headquarters or datacenters and remote office sites. Our SD-WAN service also enables employees to work remotely or on the go while still having access to the data they need securely and in a timely manner.
Branch offices handle

the majority of

your traffic once your business grows.

SD-WAN lets you intelligently route your WAN traffic based on the business requirement of applications. Includes priority of the applications, policies, performance required, and security.

Optimizes network performance and uptime.

Databytes will help you deploy this intelligent, hybrid, flexible, and managed SD-WAN through our partnered service providers.

The customizable basis on your size can be deployed on the OPEX model for cost optimization.

 
Get Started with our latest IT Solutions
Supporting enterprises of all sizes grow their businesses by streamlining communications, and managing IT infrastructure through our dedicated team of experts and a seamless service platform.